Whether you call it your chest, boobs, pecs or something else, everyone has breast tissue. And getting to know your normal when it comes to breast health can help you understand and spot anything unusual sooner.
October is Breast Cancer Awareness Month, and we're proud to announce our partnership with the charity CoppaFeel! to help more people become aware of their breast health.
Read on to learn more about CoppaFeel!'s vital work, and how we're supporting it with the limited edition Myvitamins x CoppaFeel! Hair, Skin & Nails Gummies.
What is CoppaFeel!?
CoppaFeel! is the UK's first and only breast cancer charity for young people. It was founded in 2009 by twin sisters Kris and Maren Hellenga, after Kris was diagnosed with breast cancer at the age of 23. The charity's mission is to empower young people to check their chests, and ensure all breast cancers are diagnosed as early as possible.
From university visits and music festivals, to billboards and social media, CoppaFeel! goes straight to young people to raise awareness of breast health. Their team has also set up several digital tools to help people check their chests, including the Self-Checkout interactive guide and a regular text reminder service.
Why is breast health important?
Like we said at the start, everyone has breast tissue. No matter your age, gender, or background, breast health plays a part in your overall wellbeing.
Breast cancer is unfortunately the most common cancer for women, with 1 in 7 experiencing it at some point in their lifetime. It isn't exclusive to women though, and around 400 men are diagnosed every year. But breast cancer is far more likely to be treatable when it's diagnosed early.
How to become breast aware
The key to being aware of your breast health is knowing your normal. This means understanding what your chest usually looks and feels like so you can spot any changes early.
With that in mind, there are some changes to be aware of, which might be early signs of breast cancer. These include: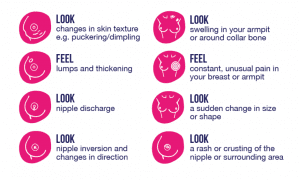 How to check your chest
There are no rules to checking your chest.. You can do it in the shower, lying down in bed, in front of a mirror, or wherever you feel most comfortable. It's less about looking for any specific signs, and more of an opportunity for you to get to know your body better. When you check your chest regularly, you're more likely to notice if there are any unusual changes.
Breast tissue isn't just in your boobs or pecs, so you should check the entire chest area, including up to your armpits and collarbone as well. Look at all parts of your chest, and run your hand over that whole area to check how they feel.
For people who menstruate, their breasts may change in appearance and feel at different points during their cycle and pre/post menopause. Weight loss or gain, or changes in muscle mass may also affect how your chest looks and feels, regardless of gender.
If you want more support and information about checking your chest, visit CoppaFeel!'s website and try their guided Self-Checkout tool.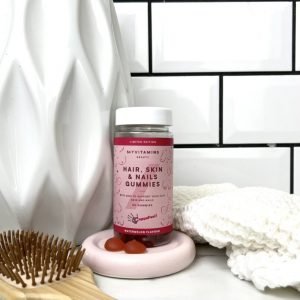 Myvitamins x CoppaFeel! Hair, Skin & Nails Gummies
To support CoppaFeel!'s vital work raising awareness of breast cancer, we've created a limited edition version of our iconic Hair, Skin & Nails Gummies. For every pot of gummies sold, we're donating £1 to the charity*.
These multivitamin gummies are packed with nutrients, including:
Zinc to help build the keratin in your hair and nails, and reduce inflammation in your skin
Biotin to keep your hair and skin healthy
Vitamin C to support collagen formation (as a bonus, it also helps reduce everyday tiredness)
Vitamin B6 for hormone regulation
Our classic Hair, Skin & Nails Gummies are blueberry flavour, but obviously for CoppaFeel! we had to go with watermelon… you know, because 'melons'! The gummies are also boob-shaped to give you a fun little reminder to check your chest regularly.