This September, we've partnered with Vimto to bring you a limited-edition multivitamin. Each gummy is enriched with 8 essential nutrients and of course, has the classic Vimto Blackcurrant flavour. Here's everything you need to know.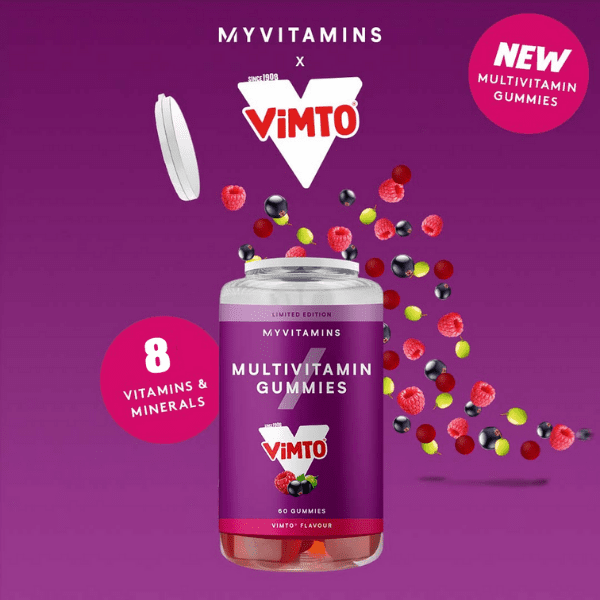 The variety of vitamins and minerals in our fruity gummies includes:
Vitamin A – Supports skin health and maintains normal vision. 1

 

Vitamin B6 & B12 – Fight feelings of tiredness and fatigue. 2

 

Biotin – Promotes healthy hair and skin. 3

 

Iodine – Contributes to a normal energy-yielding metabolism. 4
Vitamin C – Boosts collagen formation, immune function and cognitive wellbeing. 5

 

Vitamin D – Aids the health of our bones and teeth. 6
Vitamin E – Helps to protect cells against oxidative stress. 7
Not only do these gummies support your vitamin intake, but they also contain real fruit juice for a natural flavour. Boosting your health from within has never been tastier!
Why Use Our Vimto Gummies?
These gummies are perfect if you're on a busy schedule and want to incorporate supplements into your daily routine. They're also vegetarian-friendly. Vitamins including B and D are commonly found in animal products, making meeting your recommended daily intake difficult on a meat-free diet. Our Vimto Multivitamin Gummies are a convenient, delicious way to support your levels of these essentials every single day.
Our limited-edition gummies won't be around for long. Shop yours now: