Is Anxiety Sabotaging Your Sleep?
Sleep matters, big time.
You know this deep down. No, not even deep down. You know that things aren't so good when you don't get to sleep well regularly. Without enough sleep, you create an uphill battle in so many different ways.
It's an essential and natural part of life.
Some of us are anxious and are struggling to sleep- mind whirring, so much out of our control, staring bleakly at the ceiling in the early hours of the morning.
Some of us seem to think it's OK – or admirable in fact – to scrape by with as little of the good sleep stuff as possible. Almost as though it were a competition.
To be successful, you need to work harder, sleep less – catch up on sleep when you're dead…
Sleep impacts on your ability to lose weight, it affects how fast you age, can prevent cancer, and dictates whether or not you are able to function at a high level.
Most people get that on a conceptual level, but I want you to get really present to why that is and what the consequences to you are of not having enough.
Unless you already know you struggle with your sleep you are probably in the space where you think 'yes, it's easy, I could do more of that any time I choose'.
And you don't.
What Is the Purpose of Sleep?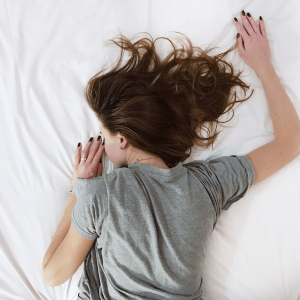 To rest and recover – and allow the body to repair itself. This is vital.
These maintenance and repair processes take 7 to 9 hours.
That's why adults need between 7 and 9 hours per night – regardless of what you think you have trained yourself to get by with. If you are regularly getting less than 6 hours a night, you will be building up a big sleep deficit and I'm sorry to tell you that you can't just make it all up by sleeping longer at the weekend.
And it's not just the quantity but the quality that matters. I'm going to be sharing some tips about that in a second.
What Happens When You Don't Sleep?
You already know that life doesn't look so great and you get irritable when you don't sleep. The negative effects are pretty far-reaching but I just want to draw your attention to a few things you may or may not know.
Lack of sleep creates high levels of the stress hormone cortisol, which makes you eat more and store more belly fat. Fact.
Your thyroid levels drop. Given the thyroid is the body's internal motor, this is not a good thing. Everything works at a slower speed (think of a record player playing slow) and that includes the rate at which your body burns energy.
Insulin doesn't work as well, leading to blood sugar problems (cravings, lack of energy) and increased fat storage.
There's also an increased risk of cancer (quadrupled), diabetes, metabolic syndrome and heart disease – you may or may not be concerned with these right now, but I'm guessing dragging yourself through the day and gaining weight is not cool?
So let's do something about it…
Going to Sleep Has Bad PR
One of the key problems with 'getting more sleep' is that it's not sexy or glamorous. In fact, it might seem to you like it's just another thing to have to add to the never-ending to-do list.
TRY THIS: Re-frame sleep. Instead of thinking of it as an obstacle and something you have to do, reposition it as something you choose to do. It's a special treat that you 'get to do'. This makes the process of going to bed much more enjoyable and, in practice, helps people let go of the stress around sleep (specifically whether they will get enough of it) and actually enjoy it.
Fix Your Sleep Hormones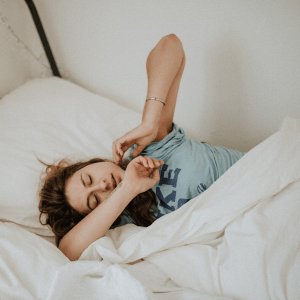 Some hormones are very helpful for sleep. Others sabotage it. One of my favourite sleep hormones is serotonin, which might know you as the 'happy hormone' for its mood-boosting properties. It is also the precursor to melatonin, the sleep hormone. The warm-up act, if you like.
95% of serotonin comes from the digestive tract. It is influenced by your digestive health, the food you eat and the amount of sunlight you get.
Your eyes have special sensors that send signals to the brain to trigger the production of more serotonin so getting outdoors (without sunglasses) is one of the best things you can do to gently encourage your body to make more serotonin.
In case you're wondering, indoor lighting is 100 times weaker than sunlight. Even on the cloudiest of days, natural light is 10 times brighter.
A recent study showed that employees who worked in an environment with windows got 173% more exposure to natural light than those who didn't. And slept 46 minutes longer in spite of any other circumstances.
Another good reason to be outdoors is that sleep is also influenced by vitamin D, a hormone that is made as a result of the skin absorbing UV light.
Low levels of serotonin are also linked to anxiety and food cravings, which is one of the reasons why I use the supplement 5HTP a lot with clients.