Males and females have unique nutritional and supplemental needs. Whilst we all require the same essential vitamins and minerals, the Recommended Dietary Allowances (RDAs) differ for each sex. This is because weight and muscle mass, metabolism differences, health concerns and hormonal variances all affect specific nutrient requirements. So, how can you ensure that you're meeting your needs? Here are our top five supplements for men.
Nutrients for Men
Vitamins and minerals perform a variety of critical roles. A lack of certain nutrients negatively affects how you feel and your body's performance day-to-day.
Adult males need the following nutrients daily:
Vitamin A – Supports skin and eye health, and normal immune function.
Vitamin C – Necessary for the immune system, wound healing, and collagen production.
B Vitamins – Essential for energy production, metabolism and cell activity.
Vitamin E – Protects cells from oxidative stress and free radicals.
Protein – Helps to maintain muscle strength and cellular growth, repair, and maintenance.
Our busy lifestyles can make it difficult to ensure we're getting all of the vitamins and minerals we need. Supplements are a convenient way to fill nutritional gaps and support your everyday health from within.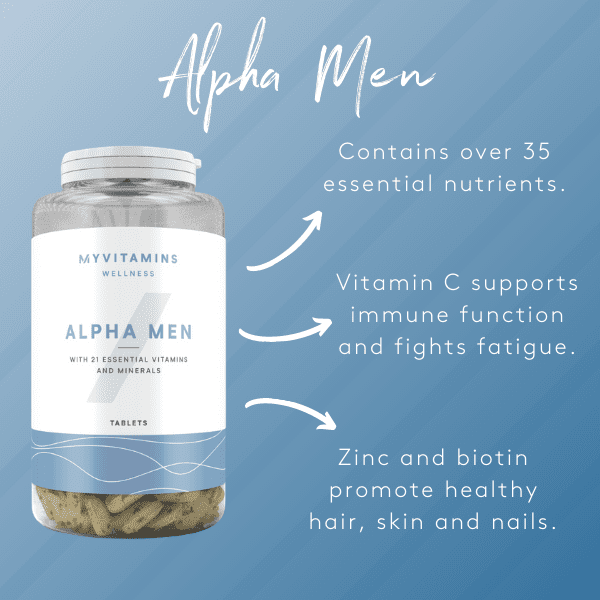 Our all-in-one multivitamin, Alpha Men, contains an innovative blend of over 35 essential nutrients to maintain general wellbeing.
This expert formulation includes vitamin A and E, important antioxidants which protect cells from damage and support normal immune function. (1) These tablets also contain vitamin C and calcium, two nutrients which work together to provide a variety of benefits to our bone health, energy levels and cell activity. 2