Support your well being with these super indulgent collagen brownies. They're quick to make, delicious to eat and the perfect addition to your beauty routine.  
As we age our levels of collagen decline, affecting the elasticity of our skin. Myvitamins Collagen Powder is formulated with hydrolysed collagen to support the condition of your skin. 1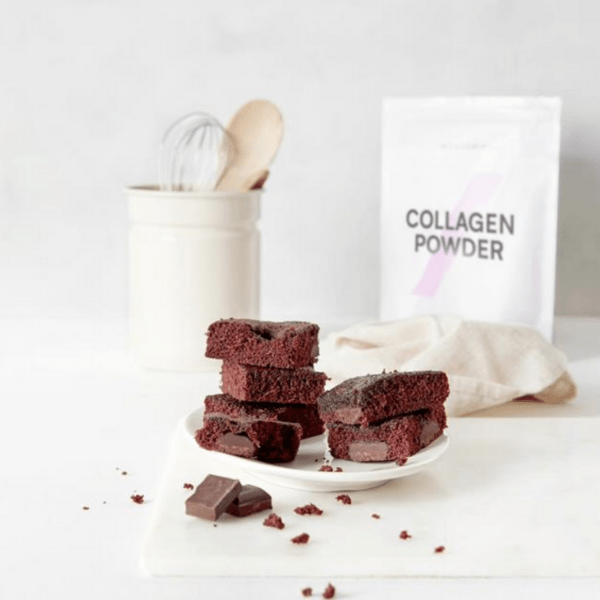 Beauty Collagen Brownies Recipe
What you need: 
220g/8oz dark cooking chocolate (at least 70% cocoa solids), broken into pieces 

 

4 free-range eggs 

 

50ml/ coconut oil

120g/4½oz soft brown sugar

 

1 tbsp cocoa 

 

1 scoop of unflavoured Myvitamins Collagen Powder

80g/3oz plain flour 

 

1 tsp baking powder 

 

Pinch of salt

 
Method: 
Preheat the oven to 200C/180C Fan/Gas 6. 

 

Line the base of a 20cm/8in square cake tin with baking paper. 

 

Melt the chocolate in a heatproof bowl placed over a pan of gently simmering water (making sure the base of the bowl is not touching the water). Remove from the heat and set aside. 

 

In a large bowl, whisk the eggs, oil, sugar and collagen with a whisk for 5 minutes, or until pale and thick. 

 

Sift in the cocoa, flour and baking powder with a pinch of salt. Gently fold in using a large metal spoon. 

 

Pour over the melted chocolate and gently fold in until well combined. 

 

Spoon into the prepared tin and bake for 20–25 minutes, or until slightly fudgy. When cool, remove from the tin, cut into 4cm squares and serve.

 
Get baking and enjoy!