It's National Curry Week and here at myvitamins, we love a curry! As the nights draw in and the air gets colder, we think a chia curry is the perfect way to warm up the senses. However, curry dishes can be notoriously less than nutritious. A curry often contains salt and saturated fat in excess, which can lead to an increase in blood pressure and weight gain. But a curry needs not be such a guilty pleasure. To celebrate National Curry Week we have formed a guilt-free, one-pot, vegan chia curry that is second-to-naan! It's a quick and simple recipe that is perfect for a midweek treat. And what's more, it is packed with goodness.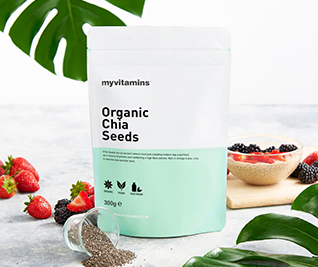 Our Chia Curry Recipe
The spices in curry, such as turmeric and cumin, can have a powerful impact on your health. They can improve the health of your gut, lower cholesterol, and act as an anti-inflammatory to reduce joint pain and muscle soreness. Our chia curry is crammed full of them! But we didn't stop there. We made sure our curry packs an extra punch by adding myvitamins chia seeds to our recipe. Chia seeds are the ultimate nutritional powerhouse, full of protein, omega-3, antioxidants, fibre, and calcium. What's more, sprinkled on top of your chia curry, they are the perfect garnish.
'Mail Us Your Chia Curry Makes!'
We would love to see your Chia Curry. 'Mail Us Your Makes' on Facebook, Twitter, and Instagram @myvitaminsuk