Whatever your age or level of fitness, your bones and joints can cause you problems. Knowing how to protect your bones and joints can help to maintain and even improve their health throughout your life. Not protecting them properly can lead to stiff, inflamed, and painful joints.
What Is Arthritis And Joint Pain?
Arthritis is an umbrella term for conditions associated with joint pain and inflammation. It happens when the cartilage in joints wears thin and causes the two bones to come in contact.
Osteoarthritis is one such condition, which can become severe and affect any joint in the body. While there are many risk factors for Osteoarthritis, the onset of the condition is normally down to a number of factors which all play a role together. These are:
Age – (particularly over the 40s) collagen levels decrease as we age
Obesity – extra weight on joints increases osteoarthritis risk
High impact sport
Genetic factors
Joint injuries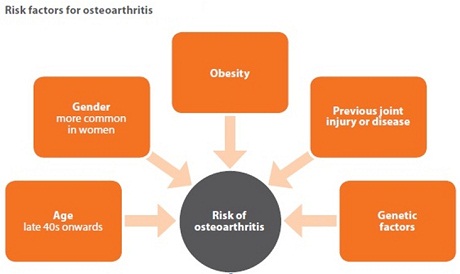 [arthritisresearchuk.org]
How To Protect Your Bones And Joints
Arthritis is a condition that can't be cured. But with the right treatment, it can be improved and stopped from getting worse.
For at-home treatment try:
Regular exercise
Maintaining a healthy BMI
Stay hydrated
Consume vitamin D3
Add bandage supports to painful joints
Have lots of Calcium
Wearing supportive footwear
Increase antioxidant intake
Eat more fatty acids
Regular low impact exercise helps to keep your bones and joints supple and flexible. Try regular stretches, yoga or walking to maintain flexibility and tone, without creating pressure or discomfort to the joints. Keeping your weight at a healthy level for your age and height will also prevent excess pressure on joints. Keeping hydrated will also make sure that joints have a plentiful supply of synovial fluid, which are the liquid the cushions in between bones.
Supplements For Joints 
Your nutrition is also important in trying to improve and protect your bones and joints. Vitamins D3 and B12 can help to maintain bone density and strength, while essential fatty acids, like omega-3, have their anti-inflammatory properties. Antioxidants, such as Vitamin A, C, and E, can help to prevent the effect of free radical, which are the biggest cause of joint deterioration.