Looking to try some new recipes or give your favourite recipes an extra boost? Whether you're a baking pro or a kitchen novice, here's some delicious and simple collagen recipes courtesy of @lemonshmaids.
Lemon Tonic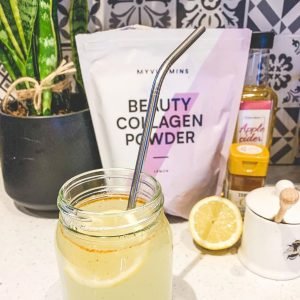 I try to have this every morning first thing for a little cleanse, metabolism boost, stomach soother and hydration! I've found it really helps soothe my digestion and will sometimes double up when I'm having gut issues. Best on an empty stomach but sometimes I have after a little food if I'm in a rush to get out the door.
~
Mix in warm water: 1 scoop Myvitamins Collagen Powder, 1 tbsp apple cider vinegar, juice of 1/4 lemon, shake of cayenne, 1/2 tsp honey. Top with cold water and ice.
~
Serve and enjoy!
Protein Oat Waffle with Chia Compote, Banana & Coconut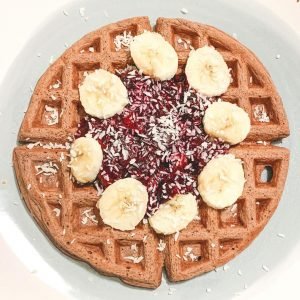 Simple, but a goodie! Even if we're working from home and likely a little less active than usual, getting a good breakfast in is important. This recipe is a great way to get in good fibre and protein.
~
(1 waffle)
In a blender combine:
1 small or 1/2 large banana
1/4 cup oats
1 scoop Myvitamins Collagen Powder (unflavoured)
1/2 serving Myvitamins Soy Protein (vanilla)
1 tsp baking powder
1/2 tsp vanilla extract
1 tbsp flax meal
2 tbsp almond milk (add a little more if too dry)
1 egg
~
Cook a little longer than 1 regular cycle in a waffle maker well coated with coconut oil.
~
Homemade chia compote (trust me so easy and 100% better for you than sugar-packed jams)- combine in small sauce pan (or microwave safe bowl):
1/4 cup blueberries (fresh or frozen)
Handful of black cherries (fresh or frozen)
1/2 tsp honey
1 tbsp Myvitamins Chia Seeds
~
Microwave in 30 second increments and crush berries once hot OR heat over med low heat until berries are soft then crush with a fork and continue heating for about 4 mins. Let sit at least 2 mins.
~
Top waffle with compote, banana & coconut. Enjoy!
Paleo/grain-free cookie dough brownie bars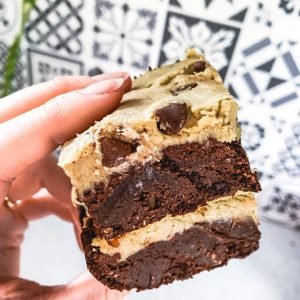 I hope everyone is embracing this time to be creative in the kitchen and eat well. Saw this recipe from @upbeetandkaleingit and had to try (with a few tweaks).
~
Preheat oven to 350f/175c. In a large bowl mix together brownie batter:
1 1/4 cup almond flour
2 tbsp coconut flour
1 1/2 scoops Myvitamins Soy Protein (vanilla)
1 egg or flax egg (1tbsp flax soaked in 3 tbsp water for at least 5 mins)
1/3 cup almond butter
1 tsp vanilla extract
1/4 cup pure cacao or dark chocolate powder
2 tbsp maple syrup
3 tbsp melted coconut oil
1/2 cup coconut milk (or any non-dairy)
~
Pat / pour batter into baking dish (about 7"x7") oiled with coconut oil or lined with parchment paper (much easier trust me!)
~
Bake 20 – 24 min (depending how fudgey you want them)
~
While baking the brownies, mix the paleo cookie dough:
1 almond flour
2 scoops Myvitamins Collagen Powder (unflavoured)
1 scoop Myvitamins Soy Protein (vanilla)
2 tbsp maple syrup
2 tbsp tahini
1 tbsp almond butter
1/2 cup dark chocolate chips
~
When the brownies are cooled, spread the cookie dough later with a spatula coated with coconut oil. Store in an airtight container in the fridge and pop in the oven to warm up, or eat cold!
Donut Pan Oat Muffins 2 Ways: Carrot Cake // Cacao Almond Butter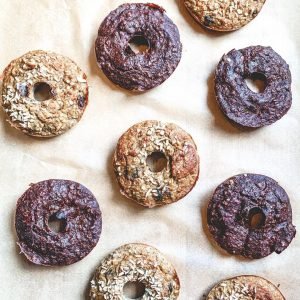 Is it just me or does everything taste better in a donut shape? It's so important to maintain healthy habits right now. Staying at home always makes me get into a bad practice of unmindful snacking, so I try and make sure I have healthy snack on hand at all times. These muffins are perfect for breakfast or snacks.
~
In a blender combine:
1 cup oats
3 small or 2 large ripe bananas
1 scoop Myvitamins Soy Protein (vanilla)
2 tbsp flax
2 eggs (or 2 flax eggs for vegan, if this don't add the flax above)
1/2 cup non-dairy milk
2 scoops Myvitamins Collagen Powder
1 tsp vanilla extract
1 tbsp honey
1 tsp baking powder
~
Split the batter in half.
~
Carrot cake: add 1/4 cup shredded carrot, 1 tsp cinnamon, 1/2 tsp ginger, 1/4 tsp nutmeg, and a handful of raisins. Top with a shake of coconut shreds.
~
Cocoa almond butter: add 2 tbsp powdered almond butter (or reg), 1 or 2 tbsp cacao powder. If using powdered almond butter add a splash more almond milk If the batter looks too dry.
~
Pour into donut pans coated lightly with coconut oil and bake at 350f/175c for about 12-15 mins. Muffins should be firm and just golden, toothpick should come out clean. The time will depend on how deep your donut pan is. Also you don't have to use a donut pan and can use a regular muffin tin, just bake a couple mins longer.