Easy healthy bakes recipes aren't a real thing, are they? How can brownies, pancakes, cheesecakes be healthy and delicious at the same time? And how can making our favourite bakes healthier be easy?! Well, making our bakes healthier isn't as hard as you might think.
We are a nation of Great British Bake Off watching, sweet-toothed bakers. Baking is rewarding, but it can also make us feel a little guilty. Tucking into a freshly baked, gooey batch of cookies is satisfying, but it's not guilt free. A cookie can contain over 250kcals and 6 grams of saturated fat, which takes the good-feeling out of our hard work. But we can still bake delicious cookies and bakes without the guilt!
How Do We Make Our Baking Healthier?
Just because they don't fit in with our macros and micros doesn't mean that we have to stop enjoying the treats that we love. By making a few tasty substitutes we can make them a little healthier and guilt-free! Deliciously Ella suggests swapping out some ingredients. "Most of those are liquids so it can be tricky to swap them directly for the same measurement of white sugar," she said. "That said, it is totally possible though it may take some trial and error to reproduce your favourite cake. After a few weeks you get the hang of what works and what doesn't."
Here are some quick and easy substitutes from Greatist: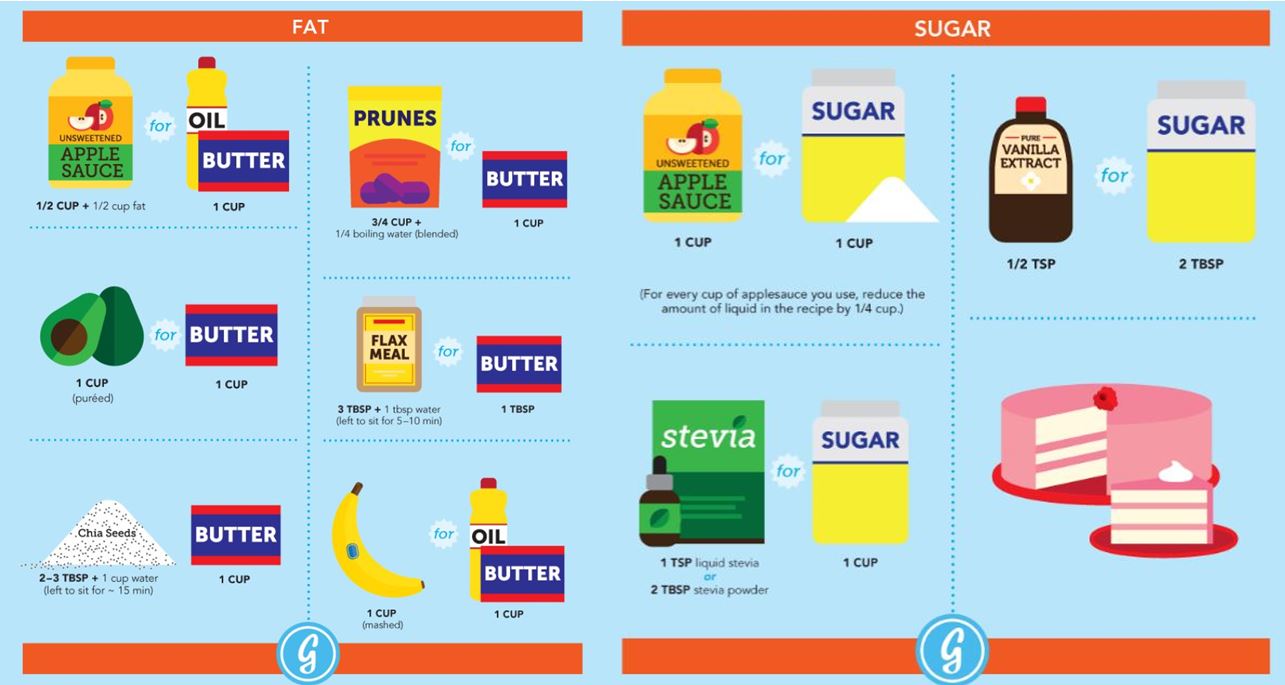 Easy Healthy Bakes Recipes
Baking healthily doesn't have to be difficult or even boring. It can actually be fun and easy with these easy healthy bakes recipes!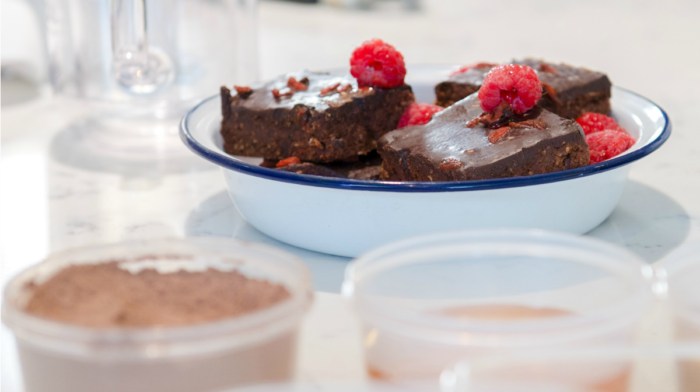 Try our delicious Raw Cacao Brownies recipe for a guilt-free, clean eating bake.
These brownies are rich in antioxidants and full of chocolatey goodness.
Loaded with fibre and antioxidants, this fudge is creamy and dairy-free, fast and easy to make.
A cheesecake that you'll enjoy making as much as you enjoy eating.
More Healthy Recipes
Don't stop with bakes! Check out these healthy recipes!
For breakfast:
For lunch and dinner:
And for everything else!
Deliciously Ella (http://www.telegraph.co.uk/health-fitness/nutrition/deliciously-ella-how-to-swap-sugar-for-naturally-sweet-ingredients/)
Image sourced from Greatist (https://greatist.com/health/healthy-baking-recipe-substitutions-infographic)