Coconut oil is a popular superfood made up of medium-chain triglycerides (MCTs.) These medium-length fatty acids are easily absorbed by the body and have been linked to several health and wellness benefits. But can coconut oil boost your beauty routine? Read on to find out.  
3 Benefits 
Of
 Coconut Oil
1. Supports Hair
Condition 
Whilst more research is needed to confirm the effects of coconut oil on hair growth, the fatty oil can benefit general scalp health. The high fat content in coconut oil is thought to help seal in hair moisture and calm scalp irritation caused by flaking or itching.  
Additionally, a recent study found that coconut oil absorbs better into the hair in comparison to other oils. This suggests that coconut oil is useful for preventing hair breakage and split ends. 1 
2. Moisturises Dry Skin
Studies show that coconut oil can reduce skin dryness, specifically in cases of eczema. Keeping skin hydrated helps to protect the skin against bacteria, supports wound healing and maintains overall skin health. 2 
3. Prevents Acne Breakouts
The most prominent fatty acid in coconut oil is lauric acid. This nutrient is thought to have antibacterial properties which can reduce the bacteria linked to acne. Coconut oil is also beneficial in reducing inflammation- one of the main symptoms of acne breakouts. 2  
How To Take Coconut Oil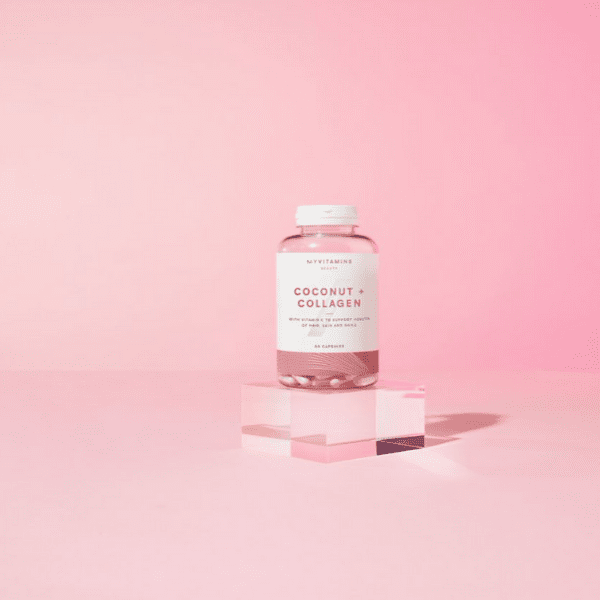 Coconut oil is available in lots of forms, including in its raw form or in creams. Whilst these options are useful for applying the oil topically to the skin or hair, a coconut oil supplement supports your levels of fatty acids from within.  
For a convenient, sugar free coconut oil supplement, try Myvitamins Coconut Oil Capsules. If you're looking to boost your general wellbeing as well as your skincare routine, try Myvitamins Coconut & Collagen Capsules. This expert blend of coconut oil and hydrolysed collagen also contains vitamin C- an essential nutrient for collagen formation, (3) immune function (4) and cognitive health. 5